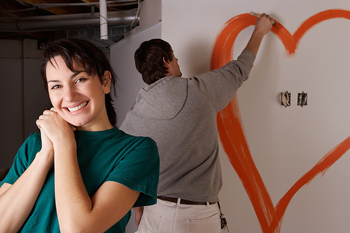 If you are planning to remodel your home in any way, you'll want to ensure you do it in a way that is eco friendly. Of course, you may be a bit confused and worried you'll make a huge mistake that is bad for the environment, who isnt? Here is a look at a few great principles that can help you figure out how you can make your remodeling projects as green as you can.
The first thing to remember is to purchase materials that are of high quality and that will end up lasting for a long time. You don't want materials that will only last a short while or it will end up wasting more later on. In the long run you'll benefit if you choose materials that will last a long time. When you remodel, make sure you purchase things that you want to have for the rest of your life so you don't end up tossing the updates in the future.
Improve things instead of replacing them if it at all possible. While sometimes you'll need to replace items, you don't always have to do so. One example is the cabinets in your kitchen. Unless they are damaged, consider re-facing them instead of pulling them out and putting in new ones. There are many ways to restore things in the home instead of purchasing something new. You can recover pieces of furniture, restore windows, refinish tubs, and more. Not only is it better for the environment, but it's more cost effective too. Couch covers are another cheap and great way to improve your home.
Avoid using chemicals when you are remodeling. There are many materials for home remodeling that can bring in chemicals to your home that are dangers. Consider going with items that are non toxic, such as organic carpet and insulation made of cotton fiber. Go with paints that are considered low VOC. They aren't much more expensive than those with chemicals and they are a lot better for your health.
Make sure you have a plan to get rid of the waste when you are remodeling. While it can take some time on your part, it is definitely worth it. If possible, try to reuse those materials. Talk to contractors in your area, check with thrift stores, or even try to sell materials in a yard stale. Check with scrap yards as well to see if they'll take older appliances and wiring. Take some time to do some research and you should be able to get rid of everything in a responsible way.
While it can take a bit more effort on your part to do a remodeling project the green way, it is worth all the effort you put into it. Doing some research and planning ahead of time can help you ensure you do everything the right way for the best effects on the environment. You may also find that there are some incentives or tax breaks that you can take advantage of if you go with products that are eco friendly as well.